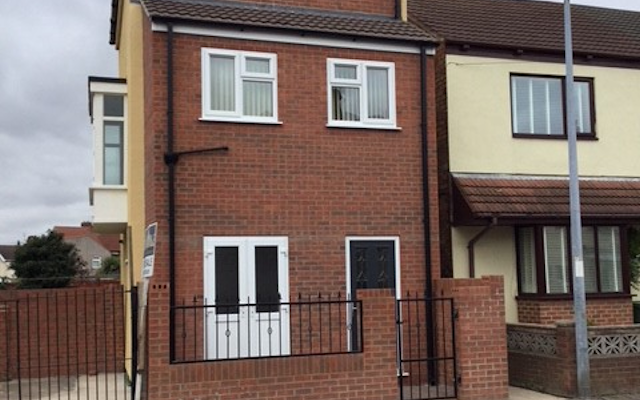 Lestrange Street – Cleethorpes – Value £85,000 – Design and Build
The building was dilapidated and need of a full program of refurbishment.  Had there not been strict planning issues the building would have been demolished and rebuilt.  Instead and extensive program of works were undertaken to provide a stunning 1-2 bed detached over three storeys.
The first task was to completely underpin the building with a steel reinforced 1 metre deep concrete strip foundation.  The front of the building was then extended out approximately 1.5m up to the second floor to provide much needed additional living space.
Because the building was in such a poor state of repair a large steel frame was built into the structure to go full height, including a ground beam set into the floor.  This provided much needed stability as well as a platform from which the high level gable end was constructed off.
The roof was constructed traditionally and, because the roof and flooring was an integral part of the rigidity of the building fabric steel was also used in the form of a Flitch Beam.  The Flitch Beam was constructed on site using a specially constructed Bird Cage Scaffold Platform to it to be safely lifted into place and bolted together.
Internally space was at a premium and, to insulate the internal walls up to regulation would have been impractical.  To overcome this the exterior of the existing property was then clad using mechanically fixed insulation panels which, were then coated with a flexible and highly weather resistant roller applied exterior finish by Renotex.
The interior of the building was finished to a very high standard with the ground floor consisting of a living area which if needed could be used as a bedroom, a WC and wash hand basin and a utility area. The first floor provided a spacious living / dining area whilst the newly extended front provided a perfect space for the modern kitchen complemented with built in appliances. The master Bedroom along with its own en-suite shower room and WC was situated on the second floor newly constructed roof space. The exterior was finished to provide a small but never the less useful front garden.