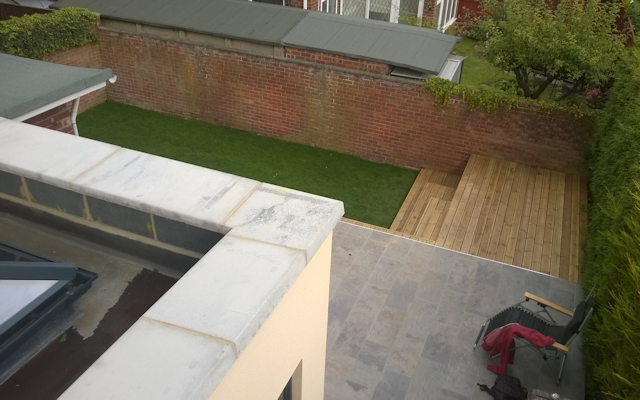 Weelsby View – Waltham – Value £75,000 – Design and Build
This was a design and build project that created a beautiful orangery in a compact and challenging garden. The emphasis on this project was to create as much natural light as possible.  The clients had precise requirements which concentrated on aluminium glazed panels instead of walls, a huge set of bi-fold doors and a stunning roof lantern on the parapet roof.  The remaining walls were constructed using handmade bricks and existing walls were clad with hand cut brickets that were cut from the same hand made bricks that the internal walls were built from.  The mixture of glass and handmade brick walls complimented with grey porcelain floor tiles created a wonderful contemporary living space.
The knock through into the existing house was extensive and when completed created a huge kitchen living area.  The roof lantern was so designed to allow a full-sized dinning table to be located directly underneath it creating a perfect naturally lit family dining area.  Carefully placed LED spot lights made this space the focal point even at night time.
The landscaping works were a challenge as the orangery floor needed to be carried through onto the patio area in the same non-slip porcelain floor tiles as the orangery floor tiles.  In effect when the bi-fold doors were open the kitchen and patio floor tiles became one with a continuation of floor space from inside out with no steps.  This was a specific requirement as the client needed wheel chair use to be paramount throughout the design including work top heights to be at height that would allow a wheel chair to be used as opposed to a normal chair.
Part of the project also included the creation of a separate utility room with its own external access door.